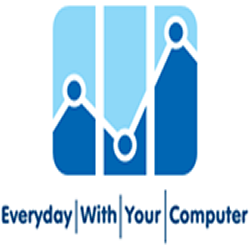 Advertisement Information
Everyday With Your Computer is one of the most watched programmes on NTA Channel 12 Uyo. This emanates from the fact that the programme seeks to solve people's problems and also educate them on what could be done to maximize the computer.
With a coverage of about 11 million people, advertisement on the programme Everyday With Your Computer will be a good decision for Companies and organizations.
The programme is hosted on NTA Channel 12 Uyo every Saturday, between 9:30 and 10am.

How to Advertise
There are two ways to advertise on Everyday With Your Computer
1. Full Display Ad
The full display as is necessary for organizations that are interested in advertising all thier services and products in a professionally designed multimedia jingle. The duration of this is 1 minute(60 seconds). The Ad can be extended beyond 1 minute, but it will attract an extra cost. The Full Display Ad can only run twice within an episode. it can be at the beginning, middle or ending of the programme.
The cost of the Full Display Ad is N6000 per slot. N/B: A slot means a minute
2. In-Stream Ad
An In-Stream Ad is an advertisement that runs within the body of the program as a pop up information. It can be displayed at any time during the course of the programme presentation. It usually stays on screen between 4 and 5 seconds.
In-stream Ad will display an image of a product or services of the organization as the presentation proceeds. The Basic information in the Advertisement are
The Picture of a product or service
A description of the product or service. Not more than a sentence
The address of the company/organization
The Cost of an In-Stream Ad is N2500 per advert
Call 08085606088 to advertise or send an email to info@dynetng.org
About

Everyday With Your Computer: The Easiest and Best Practices is more like a Social Responsibility motive of DyNET Technologies to give back to the society and the world at large. The program features tips and tweaks on how to optimize, maximize and utilize the computer. Once a while the programme troubleshoots user defines problems and answers questions that users bring up. The focus basically is on the Windows Operating Systems. Learn more...
Contact
Questions, Enquiries and Criticisms are welcome.
Phone: +2348085606088
Address: 25 Ayara Street, Off Aka Road, Uyo, Akwa Ibom State
E-mail: info@dynetng.org